Featured Speaker: Clarice Phelps
Clarice Phelps was born in Minneapolis, MN and raised in Nashville, TN where she attended and graduated from Tennessee State University (TSU) in 2003 and holds a B.S. in Chemistry and an M.S. in Mechanical Engineering with a focus on Nuclear and Radiation Engineering from the University of Texas- Austin. After her time at TSU, she joined the United States Navy in the Nuclear Power Program where she helped to maintain the chemistry and radiological controls of two Reactor Plants onboard the aircraft carrier, USS Ronald Reagan (CVN 76) for the carrier's first two deployments to the middle east.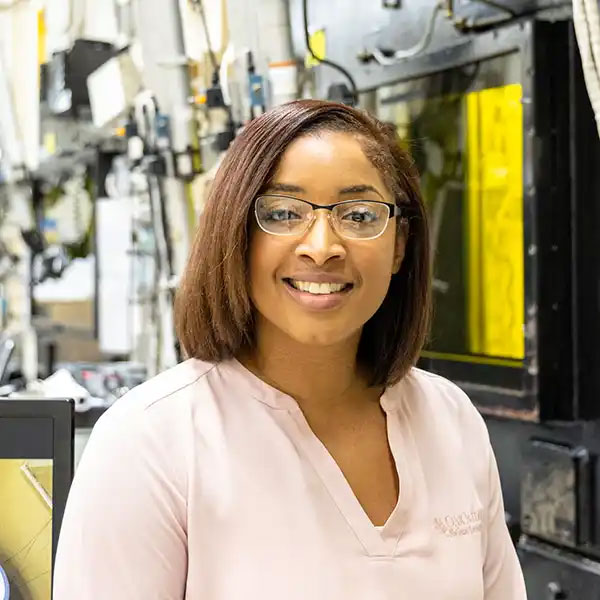 After an honorable discharge from the US Navy in 2008, Clarice then went to Oak Ridge National Lab in 2009 where she worked as a Nuclear Operations Technician at the Radiochemical Engineering Development Center (REDC) processing and purifying mainline radioisotopes for use in industry, the private sector and various government agencies.
In 2010, Clarice began working for the Nuclear Security and Isotope Technology Division (NSITD) at ORNL, where she was a part of the team that helped to purify the isotope, Bk-249 that would be used to confirm the discovery of element 117, Tennessine (Ts), on the periodic table and was recognized in 2019 by ORNL as the very first African American woman involved in element discovery. Clarice has lent her technical expertise to the Plutonium 238 (Pu-238) program for NASA in spectrophotometric determination of plutonium (Pu) and neptunium (Np) valence states in aqueous and organic solutions. She currently serves as the project manager for the Radiation Signature Training Devices in the Radioisotope Production and Development Group at ORNL and served on the African American Resource Council (AARC) at the lab.
Clarice has taught, as a special instructor, at the Project G.R.A.D. (Graduation Really Achieves Dreams) Summer institute for high school students involved in Science, Technology, Engineering, Arts, and Math (S.T.E.A.M.) programs. She has served as a guest instructor on the basics of Nuclear Engineering and radiochemistry at Pellissippi State Community College's Academic Summit and is working towards the development of a radiochemistry technician career pathway there as well. She has also dedicated her time to after school educational programs at Austin- East Magnet High School in association with A1 Learning Connections which focuses on educating students on careers after high school. She currently serves as board member and vice president for a 501(C)3 non-profit organization called Yo-STEM which aims to bring STEM education to underserved communities. She has also served as the Vice President and program chair of the Knoxville graduate chapter of Alpha Kappa Alpha Sorority, Inc (AKA) as well as the Southeastern Regional Registration Chairman for AKA's 88th Southeastern Regional Conference. Clarice has also volunteered at Knox County Career Fairs for middle school students, Science Expos and travelling science fairs sponsored by ORNL, and the 2015 National Nuclear Science Week.
Outside of her service to science and community, Clarice has earned the 2017 Knoxville YWCA Tribute to Women Award in the area of Technology, Research, and Innovation and was selected in 2019 by the International Union for Pure and Applied Chemistry (IUPAC) for the Periodic Table of Young Chemists representing the element Einsteinium (Es). She has also recently appeared on the cover of the Fall 2019 Minority Engineer Magazine and presented a Ted Talk at the TedxNashville event in December 2019 entitled "Claiming My Seat at the Periodic Table" where she talked about her journey in the STEM field, her accomplishments, and what she has learned along the way. In 2020, Clarice was recognized for achievements in the Knoxville, TN "Top 40 under 40" and was recently a 2021 GEM Fellow, completing her internship at ORNL. She is also featured speaker on "Our Truths" speaker's bureau while continuing her journey towards a PhD in Nuclear Engineering at the University of Tn- Knoxville. But her success would not mean anything without the support and love from her family. She is supported by a loving husband, John, and her three children: Camryn, 6, and 4-year-old twin boys, Jayson and Jaxon.